Christmas 2022 Missions Projects
To accomplish what God has called us to do at JSMI we have prioritized four ways to minister to people. Motivate, Evangelize, Disciple and Reach Out. Our Christmas missions projects this year are all about Reaching Out.
Reaching out to the hurt with not only food for their spirit, soul and body but also to bring the JOY of JESUS at a time when hurting and being alone just feels harder than at any other time of year.
Jerry Savelle Ministries Australia would like to assist in impacting people's lives this Christmas and we would love you to prayfully consider being part of this.  All donations need to be received by Tuesday 20th December 2022.
* Please note JSMI Australia has had long standing relationships with all of these organisations and every dollar raised will go directly to your chosen project.
Give Kids Hope is a "Not for Profit" Christian organisation set up to give the "Hilltribe" children of Northern Thailand hope for a brighter future. Children who would otherwise have no hope of a good future are finding a positive environment where dreams and visions come alive. The home is a loving and caring place filled with the love of Jesus. The children are trained up in the Word of God and given a proper education so, they can grow up with hope, faith and vision.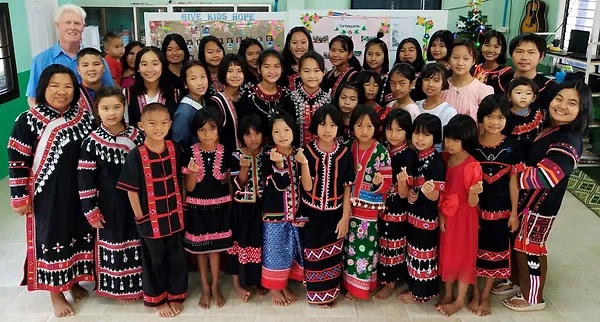 Project 1 – Christmas Camp
Children's Christmas Christian Camp – 2 nights in Chiang Rai, including accommodation, food and all activities with Churches from all over the province.
Project 2 – Christmas Dinner
Special Christmas Dinner for all the children and workers in the home, including all food, drinks and decorations.
HFCC Living Waters – Papua New Guinea
HFCC Living Waters is one of JSMI's missions Churches, which supports the people of Kimbe in the West New Britain Province. The Church is run by Pastor Joyce Valilio a mighty woman of God who is breaking stereotypes and ministering in places women have never been accepted before.
Project 3 – Christmas Celebration
A special Christmas Day of God's Word, food, fun, games and gifts for the Church members and community who can not afford to celebrate Christmas.
Women's Refuge, St Vincent de Paul – Australia
The Queensland women's refuge that supports women and their children as they rebuild their lives after domestic or family violence. The refuges are a safe place where they offer individualized support plans to empower the women and children to lead a life free of violence.
Project 4 – Christmas Gifts & Food for Families
2 gifts for every Mum and Child plus Christmas food hampers. Bringing joy and showing the love of Jesus at such a special time of year.

Call us and talk to one of the team
+61 7 5576 5534
EFT Bank Transfer
Acc Name: Jerry Savelle Ministries International
BSB: 084 462
Acc Number: 45487 4706
Please include project number in reference

Complete your partner letter giving form indicating which project/s you wish to give towards